Tank Welding Rotators for Sale(1T-2000T)
OLIVTE Tank Welding Rotators are robust heavy-duty designed rotators for various applications, built to withstand the harsh and rugged weld shop environments expected in the world of welding and fabrication requirements. Our range of Tank welding rotators is appreciated in the European and U.S. Steel Manufacturing Industry for its highest quality benchmark, economical, rugged construction, and ergonomic look.
Tank Welding Rotators are designed to rotate and manipulate Shell, Tanks, Pipes and any other type of cylindrical object. These "Welding Rotator" units provide a wide array of component manipulation and precise rotation speed adjustments as needed for any Tank or Shell Rotation purposes. This reduces the preparation time and allows the operator to manipulate workpieces to optimal.
Tank Welding Rotator Details
1. Steel wheels or polyurethane wheels are optional for rollers.
2. Drive motor adopts AC variable frequency motor. Can use Servo motor if high precision is required.
3. The roller's support bearing adopts spherical roller bearing, which has the characteristics of strong bearing capacity and impact resistance.
4. All the shaft parts are quenched and tempered, and the tooth parts are quenched and tempered.
5. The welded base profiles and plate welding, de-stressed. And the frame is shot blasted and rusted, which has sufficient strength to ensure long-term use.
6. All shaft holes CNC boring machine and the precision of transmission gears are 7 grade to ensure dimensional accuracy.
7. The electric control system is composed of a control box and a hand control box, and the electric control system adopts the AC frequency system to regulate the speed. A super-soft multi-wire cable connects the control box and the hand control box to ensure reliable use.
We look forward to hearing your questions about welding rotators!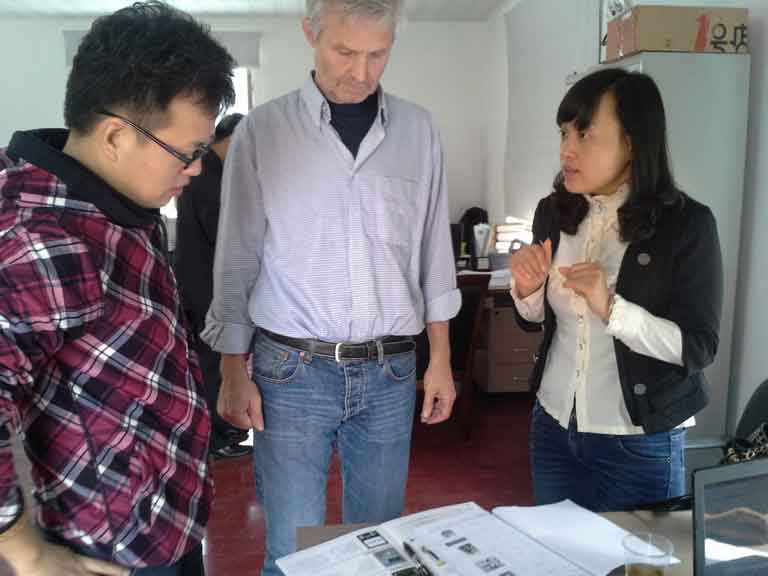 Introducing our tank welding rotators to a customer in Sweden
Tank Welding Rotator Applications
With a wide range of turning power and load capacities, pipe rotators are an essential tool for welding heavy and oversize vessels and pipes. Tank Welding rotators are ideal auxiliary machines in pressure vessels, boilers, chemical equipment, oil and gas, storage tank, water tank, water pipe, shipyards, wind energy, etc.
Rotators for Safe and Efficient Welding
The use of rotators helps ensure a safe working environment for welders handling large, heavy pipes or vessels. These tools also provide increased efficiency as welders spend less time using lifting or crane facilities to turn pipes during the welding process. With such capabilities, Tank welding rotators are great investments for your workshop.
For a unique welding rotator, kindly inquiry us with the following details.
1. Max. Loading capacity in tons or max. Workpiece weight in tons or pounds
2. Tank/Vessel diameter range (min. and max.) in mm
3. Tank / Vessel final length in mm
Friends from Europe and the USA or other countries and regions are very welcome, if you have any questions, please send us a message!
About OLIVTE
Our company which gather research and development, manufacture and sale, majoring in the line of automatic welding equipment such as adjustable welding rotator and welding chuck, cutting equipment, milling equipment, environmental protection equipment. For many years service in the boiler, pressure vessel, petrochemical, electrical installation, metallurgy and steel other manufacturing industries.
Welding Rotator – The Ultimate FAQ Guide
The use and importance of welding rotators in the industry have grown significantly. Because of the excellent benefits, you can get from using it, and you can expect better productivity with fewer errors. However, not many people are well versed when it comes to welding rotators. Most traditional welders even think it wouldn't help out in the process. In this guide, we'll uncover the truths about these claims.
By the end of this ultimate FAQ Guide about welding rotators, you'll have the best and the most precise understanding of it.
What is a Welding Rotator?
A welding rotator is a machine you can use to help in welding cylindrical or rounded objects. It is typically used in the manufacturing of large cylindrical structures, such as storage tanks or pressure vessels, where it is important to achieve a high-quality weld with minimal distortion. The rotator consists of a set of rollers that support the workpiece, and a motor that drives the rollers to rotate the workpiece at a controlled speed. The welder can then move their welding torch around the circumference of the workpiece to perform the weld. Welding rotators are an important tool in the construction of large, heavy-duty structures because they help ensure that the welds are strong and evenly distributed around the circumference of the workpiece. You can use it in welding either small or large-sized rounded objects.
How Does a Welding Rotator Function?
Many people don't understand how a welding rotator works. But in reality, it functions pretty quickly. It functions by rotating the circular or the cylindrical object to help and aid in welding. Welders don't need to change positions for heavy materials and workpieces as the welding rotator would rotate them for them.
What are the Usual Parts of a Welding Rotator?
Different welding rotators have different parts. Moreover, some manufacturers add specific components to it.
But, the parts that would never be taken out include:
1. Driving Wheels (what turns the materials or workpieces)
2. Wheel Frames (what supports the wheels)
3. Transmission Device (what controls the speed of the rotation)
4. Controller (what is used to change and modify the speed of the rotation)
5. Direct Current (DC) Motor (what makes the motion concrete and real)
Even if just one of these parts is missing, a welding rotator will not function.
What's the Importance of a Welding Rotator?
In the fast-growing industry, the need for safety and security remains at the top priority.
Using welding rotators can give you a ton of benefits, some of which include:
Safety and Less Effort for Welders
If you use a welding rotator, you will exert less effort as it'll be rotated automatically.
This means that a welder would not need to move and rotate the workpiece manually, promoting safety and security to the welder and the workpiece.
Faster Productivity
All automation results in faster and better productivity. The function of a welding rotator to move the workpiece means that the welder can do more and better.
More robust and More Reliable Support
The support from the equipment itself is already enough to tag it to have more substantial and more reliable support.
This can protect the workpiece, its quality, and its overall dimensions from the deformity.
Is the Welding Rotator the Same as a Welding Positioner?
No, a welding positioner is different from a welding rotator. The welding positioner is a device that can hold and rotate a workpiece depending on the angle set. It can be at different angles, allowing you to weld at a steady level. Any shape of the workpiece can be loaded to a welding positioner.
Welding rotators are different. Once the workpiece is loaded, it'll rotate consistently depending on how fast or slow you want it. The wheels on the rotator allow movement; that is why only rounded and cylindrical objects are the ones that can be used with it.
Seek our help and our industry experts will carefully explain any part to you!
What advantages can you get from using welding rotators?
These machines and equipment can help you get a ton of advantages. The most common benefits and advantages you can achieve include but are not limited to:
1. Safety of your welders and the workpiece
2. Accurate and precise welds
3. Continuous welds with ease
4. Higher productivity rate
5. More efficient and more effective results
6. Reduced working hours
7. And many more
If you weld many different rounded or cylindrical products in the same ways, welding rotators can get the job done more accessible and more conveniently.
What Welding Processes Can Welding Rotators Assist?
Welding Processes Can Welding Rotators Assist. You can use welding rotators if you are to perform any of the following welding procedures:
Sub-Arc Welding (SAW)
Tungsten Inert Gas (TIG) Welding
Metal Inert Gas (MIG) Welding
Whatever welding procedure you need, a welding rotator can help you drastically.
Why Use a Welding Rotator?
Using a welding rotator can benefit you in numerous ways. But, the most common reason why you should consider using it is because of the savings it can give you.
With faster productivity, shorter working hours, and more accurate work – you'll spend less money, and you will be able to save more! Apart from that, you can ensure the safety of your workpieces and your welders! Once mounted, the workpiece would depend on how you set the rotator's settings! No instability, no moving!
What are Turning Rolls
It's a type of auxiliary machine you can perform better and with more productivity. Welding turning rolls can assist your welding procedure in the best ways possible.
What Works Involve Usage of Turning Rolls?
You can use turning rolls in many different industries that involve heavy equipment.
However, the most common ones you can use it for include:
Pressure Vessel Creations
Large, Small, and Medium Pipe Sections Creations
Heavy Machinery Cladding
Shipyard Creations
Boiler Vessel Creation
And Many More!
You can use it in many different fields and applications involving ton-weighted parts.
What are Pipe Turning Rolls?
They're the turning rolls you'd have to use for the rolling of pipes and tubes. It can be small, large, or medium-sized pipes.
What are Tank Turning Rolls?
These are the turning rolls that house tanks instead of pipes. Similarly, these machines can also handle light to the heavy type of parts and components.
You can choose from various types of pipe or tank roller wheels. However, the most common ones are:
Types of Turning Roll Wheels
Use steel wheels to work on high temperature and high capacity equipment and parts. They are the most useful if the engagement of the part has certain limitations.
Phenolic Wheels
Phenolic wheels are most helpful if you can't suffice the workpiece using steel or rubber. Also valuable for high-temperature areas and situations.
Rubber Wheels
Rubber wheels are the most common type of wheels for turning rolls, and this is because of their high friction capacity.
Is Welding Rotator the Same as Turning Rolls?
Technically, welding rotators and turning rolls are the same. They can be different depending on what process they'll undergo.
Welding rotators assist the welder; they're also dubbed welding turning rolls. But, generally speaking, turning rolls are machines you can use to assist with heavy workpieces.
It's what you have to use if your parts, projects, and components can't be lifted regularly.
How Much Weight Can Turn Rolls Support?
The usual and regular weight that turning rolls support sits between 100 lbs to 400,000 lbs.
Additionally, they can support workpieces and parts that have a diameter of 6 to 30 feet long.
What Features Do Turning Rolls Have?
Some of the physical features that welding turning rolls have include:
Flexibility
Welding turning rolls are flexible and can be used in many different applications. They're known to be flexible and versatile, and they can support a wide range of weight classifications.
Easy Operations
Compare manually welding a 10-ton pipe versus using a welding turning roll. You'll find it easier and more convenient to work on.
Allows Better Productivity
By using a welding turning roll, you increase productivity!
Automating it can give you better and higher chances of faster and more accurate work.
These are just some of the features you can get if you use turning rolls.
What Applications Can You Get With Turning Rolls?
You can use it for any cylindrical or rounded parts or components – that are preferably heavy.
You'll be able to find a ton of uses for it; some of the most common applications include:
Creation and Fabrication of Tanks and Vessels
Car Tanks
Pipe Spooling
Heat Exchange Units
Shipyards
And Many More
What is the Welding Fit Up Process?
Understanding fit up is just like comprehending what it means. It is the activity of fitting two (2) or more workpieces together to prepare them for welding.
What are Tank Fit Up Rolls?
The tank fit up rollers are the machines and equipment you use to fit them up.
Instead of utilizing heavy equipment and tiring them out, you can utilize tank fit up rolls. They're similar to a welding rotator, but with added features like the rails where the rotators would move, and so on. But, the features you can have will depend on the outputs and the results you want and need. The automatic tank fit up rolls are machines automated to rotate depending on the program.
The fit-up will go manual, but the rotation and the welding can be automated. You can find many automatic tanks fit up rolls in the market, but that would depend on what you need to do.
Are Tank Fit Up Rolls Similar to Pipe Fit-Up Rolls?
Yes, tank fit up rolls and pipe fit up rolls are the same. They differ based only on the type of workpiece that you'll work on. The machines and equipment used are similar, so don't confuse it.
What Advantages Can You Get With Tank Fit Up Rollers?
Using tank fit up rolls can have many advantages for the workpiece, welder, and your other equipment.
Less Fatigue From Welder
One of the main advantages you can get would be lower levels of welder fatigue. Because of the automation of tank fit up rolls, welders could stay in just a particular position while welding.
Without a tank fit up rolling machine, welders might find it difficult to fuse and join workpieces.
Reduced Crane Operations
In joining and welding two 100-ton tanks, people would be incapable of carrying them; this is where cranes come in.
Using cranes can carry heavy parts, but it'd be time-consuming to line it up to another workpiece. With a tank fit up roll, the utility of cranes would be less.
This means that your cranes could be used up for other purposes, or they'll experience minor wear.
Faster and More Systematized Welding
It's not an unknown fact that using welding positioners produce results faster. It's also true with the tank to fit up rolls.
Using it can help you achieve the welds you need faster and more systematized, assisting you in producing better and higher quality welds.
Your Welders are Safer
Imagine if a crane lifts an 80-ton tank without any support from the bottom. Would your welders be safe?
The tank fit up rollers can ensure the safety of your welders 100% of the time. Apart from keeping the workpieces hanging, they can clutch workpieces – even those rounded or cylindrical.
Applications of Tank Fit Up Rolls
Often, many people think that tank fit up rolls would be the same as welding rotators. But, welding rotators might not be able to align and line up workpieces.
The tank fit up rolls can endure even the heaviest of workpieces, given they're complete with the right set of tools.
Most of the time, you can apply the usage of tank fit up rolls in heavy, rounded workpieces.
They can be in any industry, such as the shipyard and shipbuilding industry, the petrochemical industry, the mining industry, and so on.
So long as a particular tank or pipe is too heavy to handle, it can heighten the weld's safety, efficiency, and accuracy.
What Types of Tanks Can You Fit Up With These Machines?
With these roller machines, you can fit up whatever kind and type of tank. But, the most common avenue would be heavy, complex, thick, and dangerous tasks.
Types of Tanks
However, you can also use thin-walled tanks, medium-sized aluminium tanks, or whatever in-tank fit up rolls.
Tank Fit Up Rolls Prices
Rates and prices for the tank fit up rolls that you need would depend on the manufacturer. Because there are a lot of variations, you need to set they're not freely priced.
Advantages of Using Turning Rolls For Your Project
Using turning rolls for your project can give you many benefits and advantages. You can look at them as advantages for your welders, your projects, and so on.
If you use welding turning rolls, you can be sure that your welders are:
Safer and more secure
Going to produce more accurate welds
Going to experience less fatigue and tiredness
For your projects, on the other hand, you can expect that:
You'll produce higher quality welds
They'll be finished faster and more urgently
Where Can You Get the Best Quality Welding Rotator?
There'll never be a shortage of where you can buy good quality welding rotators in the market.
But if you are looking for the best and the most functional, we are here to help you!
You were the best in the industry, shaped and moulded us to create and manufacture high quality and reliable products. When you purchase our welding rotators, you'll have no problems with any projects you have – light or heavy.
You can trust us if you need any welding rotator for your project. We can offer you welding rotators for light workpieces and materials, rotators for heavy workpieces, and so on!
Contact us now and get more information about our welding rotators!