Practical and Versatile - Customer testimonials from Europe and the United States
Olivet has a comprehensive range of pipe rotator for automatic welding. These very versatile handling tools enable welding to be carried out in the optimum positions to benefit the quality of the work.
YGHB Series pipe rotators are ideal solutions to solve the problem of rotating and tilting demands on pipes or flange welding. Height, angle, and speed are all adjustable.
A motorized slide with oscillator optional can be to realize automatic welding.
Scope of Delivery
1 Main frame body
1 Electric control system
1 control cabinet
1 remote pendant
1 foot switch
1 X-Y slide (optional)
1 Oscillator (optional)
Pipe Rotators Main Technical Parameters
| | |
| --- | --- |
| Model | YGHB-10 Pipe Rotators |
| Max Loading capacity | 1,000 kg (Approximately 2204 lbs. to meet the work requirements of most European and U.S. customers.) |
| Pipe/ Flange diameter | Φ100-700 mm |
| Roller linear speed | 100-1000 mm/min |
| Rolling speed adjustment | SVF control by AC inverter |
| Roller motor power | 0.75 kw |
| Max. rolling torque | 960 N.m |
| Tilting angle | +/- 45° |
| Tilting speed | 0.3 rpm |
| Tilting motor power | 1.1 kw |
| Max Tilting torque | 5000 N.m |


Usage for welding on pipe, elbow and flange
Straight pipe with Straight pipe joint, Straight pipe with flange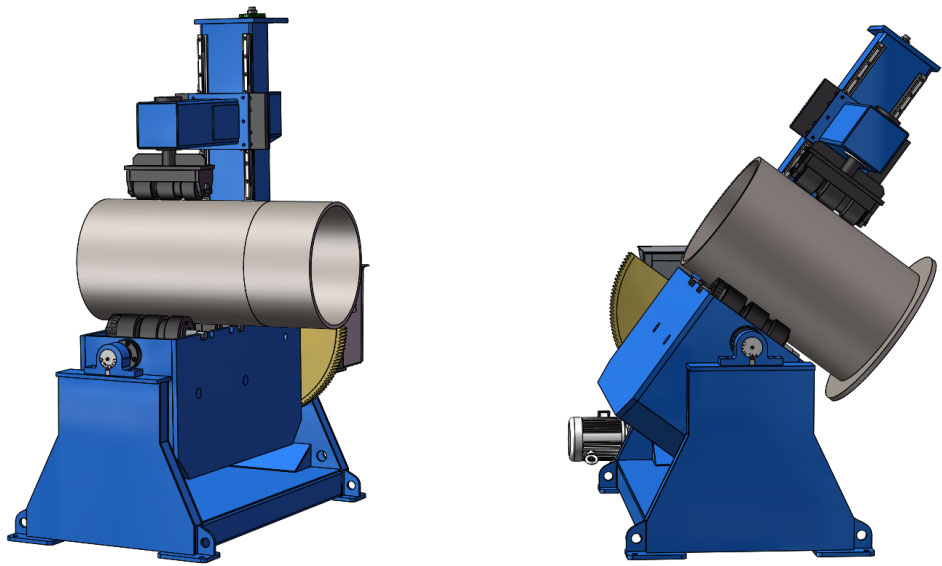 Straight pipe with elbow pipe joint, Straight pipe with double elbow pipes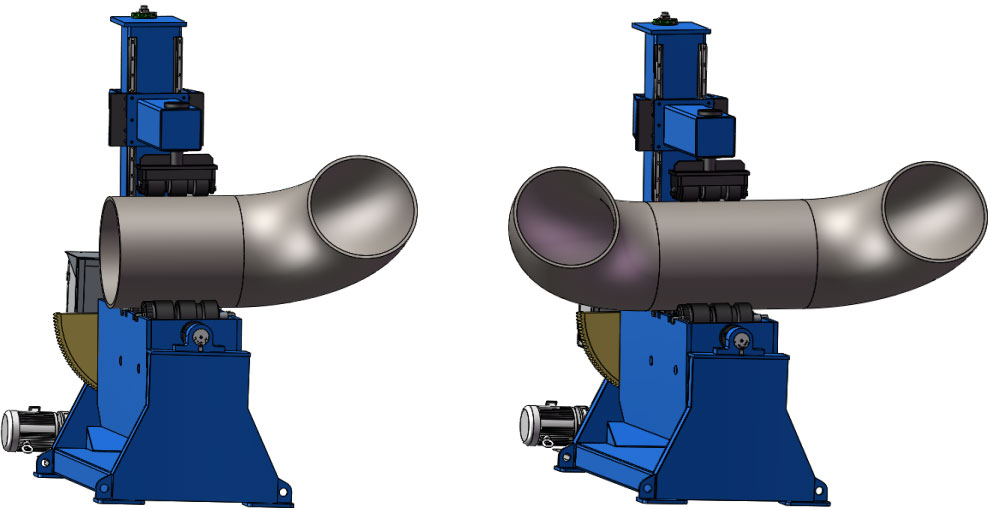 Pipe Rotator for Welding for Sale - FAQ
What are Pipe Rotators?
A pipe rotator is an auxiliary machine you can use to help you with your welding projects. It's a welding positioner used to handle pipes and other cylindrical parts or objects. You can use it to clamp and clutch, rotate, tilt, and reposition the workpiece you're working on.
Can Pipe Rotators be Used For Welding?
Yes! Its primary use is to assist and complement the welding process. It's what you can use to hold a round or cylindrical workpiece and move it in a whole 360-degree rotation.
What Pipes Can You Use With Pipe Rotators?
You can use pipe welding rotators for a wide range of pipe and tube fittings.
Here are some of the most common ones:
Long Radius Bend Pipes
Elbow Pipes
Tee Pipes
Flanges
Wye Pipes
And Many More!
Note: Pipe welding rotators assist the welding process, so big and heavy parts and components are loaded to these machines more often than not. But, you can also use it for small to medium-sized pipes and workpieces.
What are Pipe Welding Rollers?
Pipe welding rollers are pipe rotators; they are the same.
Don't be confused when you see pipe welding rollers, as some manufacturers refer to it as that Pipe welding rollers.
What Benefits Can You Get From Using Pipe Rotators For Welding?
Using pipe welding rollers for welding can give you the following benefits and advantages:
Faster and Speedier Production
Your pipe rotators can help you get even to the most awkward and complicated parts. This makes production faster, more urgent, and hastier.
Stable and Consistent Welds (For Bulk Welds)
Pipe rotators can set your workpiece in place without it being misaligned. What does this mean for you?
Whenever you perform the weld, the rotator can move it more consistently with more stability; this makes all your welds the same without any irregularities.
Safety and Security of Welders
Imagine welding a 50-ton pipe fitting; isn't it dangerous for your welders? What happens when it gets mishandled?
Using pipe rotators dramatically increase the safety and security of your welders. It has been proven and tested.
Higher and Better Quality of Welds
Your welders wouldn't anymore worry about how to handle the workpiece. With this, they can focus on the welding procedure itself, creating better and higher weld quality.
Are There Any Disadvantages of Using Pipe Welding Rollers?
When it comes to operation, there's none.
But, if your pipe rotator malfunctions, you wouldn't be able to push operations.
Why Do We Need Pipe Rotators?
There's no way you can handle welding a 50-ton pipe fitting by yourself.
Even if you're strong enough, it'll be hard and somewhat impossible to turn it in even with 2 to 3 people.
So, it would help if you had pipe rotators to quickly and effortlessly weld even the heaviest workpieces.
Which Industries Can Find it Beneficial?
Many industries can find the use of pipe rotators beneficial. But among the most common that utilize it are:
Metalworking and Fabrication Industry
Construction Industry
Oil & Gas Industries
Petrol Chemical Industry
Power and Generation Industries
Nuclear Industry
Industries that utilize heavy pipes and tubes often find the best use for it. But, it can also be used in the automotive industry (i.e. creation of tanks, etc.).
For you to get the specific machine you need, consider asking these questions:
Would the rotator meet the capacity requirement of the load?
Is there a specific speed for power or turning for any of the projects?
What specific type of wheels do I need?
How big would the workpieces be? How many rollers would I need?
A turning roll is a machine that helps handle heavy materials (more than 100 tons).