Practical and Versatile
Olivet has a comprehensive range of pipe rotator for automatic welding. These very versatile handling tools enable welding to be carried out in the optimum positions to benefit the quality of the work.
YGHB Series pipe rotators are ideal solutions to solve the problem of rotating and tilting demands on pipes or flange welding. Height, angle, and speed are all adjustable.
A motorized slide with oscillator optional can be to realize automatic welding.
Scope of Delivery
1 Main frame body
1 Electric control system
1 control cabinet
1 remote pendant
1 foot switch
1 X-Y slide (optional)
1 Oscillator (optional)
Main Technical Parameters
| | |
| --- | --- |
| Model | YGHB-10 |
| Max Loading capacity | 1,000 kg |
| Pipe/ Flange diameter | Φ100-700 mm |
| Roller linear speed | 100-1000 mm/min |
| Rolling speed adjustment | SVF control by AC inverter |
| Roller motor power | 0.75 kw |
| Max. rolling torque | 960 N.m |
| Tilting angle | +/- 45° |
| Tilting speed | 0.3 rpm |
| Tilting motor power | 1.1 kw |
| Max Tilting torque | 5000 N.m |
Usage for welding on pipe, elbow and flange
Straight pipe with Straight pipe joint, Straight pipe with flange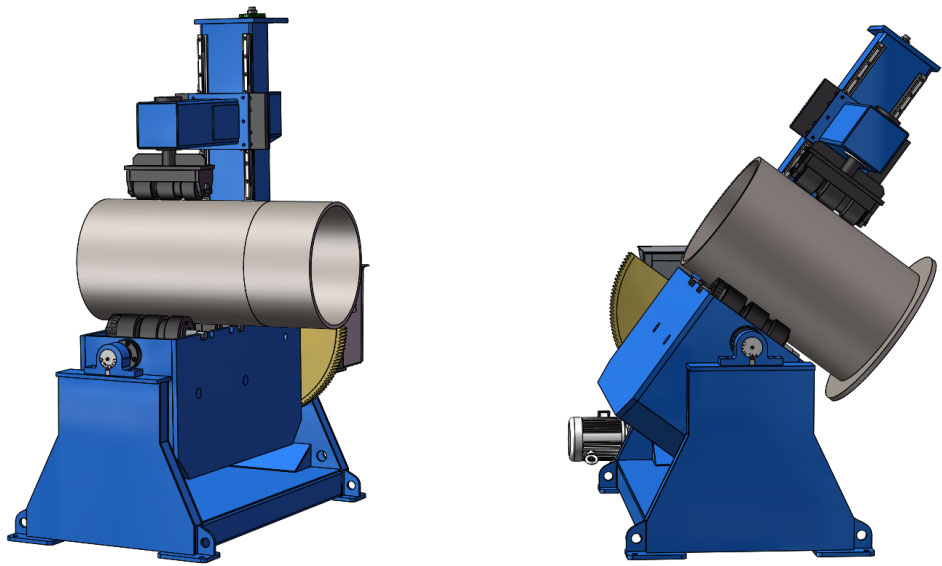 Straight pipe with elbow pipe joint, Straight pipe with double elbow pipes