Elbow Welding Positioner-longitudinal seam welding
---
Stable Automatically Rotating Process
Olivet company has a comprehensive range of positioner for automatic welding. These very versatile handling tools enable welding to be carried out in the optimum positions to benefit the quality of the work. Olivet's positioners are with capacities ranging for 100 to 200,000kgs.
Elbow long seam welding welding center consists of one set of elevating head stock positioner, one set of sub-arc welding machine and one set of sub-arc tractor.
The elbow longitudinal seam welding center dedicated to solve the problem when weld long seam of heavy-duty elbow.
The welding column can rotation automatically when tractor travels with sub-arc welding along the long seam of elbow by gyroscopic sensor.
The welding center is suitable for 45/90 degree elbow diameter from 600-2000mm, loading weight up to 8 tons.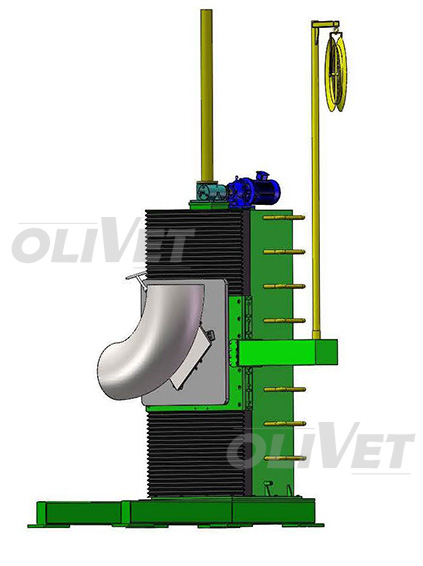 Scope of Delivery
A. 1 Head stock positioner
B. 1 Sub-arc welding machine
C. 1 sub-arc tractor
D. 1 PLC Electric control system
1 control panel
1 remote pendant
1 wireless remote pendant
Main Technical Parameters



A. Loading capacity up to 8 tons
B. 360 degree rotation angle
C. elbow 45/90 degree and diameter from ?600-?2000mm supply
D. Rotation speed automatically control according to welding speed by PLC programing
E. Motorized 1200mm elevating stroke adjusting
F. Special clamping supply
D. Gyroscopic sensor feedback control system