Welding Manipulator (Column and Boom)

---

Stable Movement Process

Olivet's welding manipulator could be assembled to automatic welding system with the welding turning roll, automatic welding machine and welding control system, etc. It's widely used in industries as boiler, pressure vessel, chemical petroleum, metallurgical construction and machinery for inner and outer longitudinal welding and circumferential welding of various seams on cylindrical members. It consists of a base, a column, and an arm that can be moved and positioned using motors or hydraulic cylinders. The welding torch or gun is mounted on the end of the arm, and can be moved to different positions around the workpiece to perform the welding operation. Welding manipulators are often used in heavy manufacturing industries where there is a need to weld large, heavy components or structures, as they can help to improve the accuracy and consistency of the welding process, reduce operator fatigue, and increase productivity.




The welding manipulator is advanced structure design, multi-functions and easy operation. Then increasing production capacity and assure the quality. Its durable construction ensures that it can withstand even the toughest industrial environments, making it a reliable and long-lasting addition to your welding equipment.





The welding manipulator could be divided into light, standard type、heavy and super-heavy according to weight-bearing, effective vertical and horizontal stroke. According to actual usage, the manipulator can be divided into fixed, fixed with rotation and moveable with rotation, etc.







Features


Advanced structure

Complete function

Improving of welding quality

Big loading capacity at the top of boom




Scope of supply


A. 1 column and 1 beam assembly


B. 1 Trolley or fixed base

C. 1 Service ladder

D. 1 Electrical control system




Main technical parameters


Type

QLH (light)

LH (middle)

ZLH (heavy)

LHW (super-heavy)

Vertical stroke, m

1-3

2-6

1-3

3-15

Horizontal stroke, m

1-3

2-6

1-3

4-15

Beam elevating speed, mm/min

600

600

600

800

Beam Horizontal speed, mm/min

100-1500

100-1500

100-1500

100-1500

Beam Horizontal speed control

AC frequency conversion stepless inverter speed regulation (VFD)

Min height under boom(A), mm

300

400

400

600

Min distance from center line of column to the front end of the boom (B), mm

500

1000

1000

1000

Column revolving

Angle(°)

±180

±180

±180

±180

Speed(rpm)

By manual

0.11/By manual

0.11/By manual

0.11/By manual

Trolley moving speed, mm/min

By manual

2000

2000

2000

Trolley height (C), mm

300

440

440

440

Inner side distance of rail if have (D), mm

1200

1500

2000

2500

Whether you're working on large-scale projects or intricate welds, our welding manipulator can handle it all. Its versatile design allows it to be customized to your specific needs, providing you with the ultimate flexibility and control over your welding operations.




Applications of Welding Manipulators

Welding manipulators find applications in various industries, including shipbuilding, aerospace, automotive, construction, and more. They are particularly useful in tasks that involve long welds on large workpieces, where human fatigue and inconsistency can pose challenges.




Welding manipulator scene pictures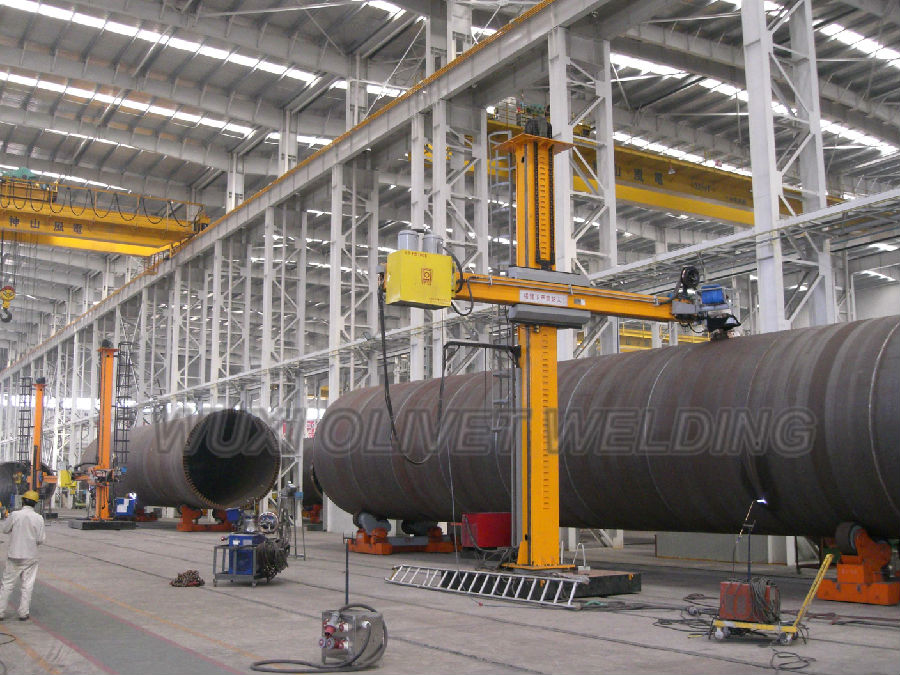 FAQs
1. Are welding manipulators suitable for small-scale welding operations?
While welding manipulators are often associated with large-scale applications, they come in various sizes, making them adaptable to both small and large welding tasks.
2. Can welding manipulators replace skilled welders entirely?
Welding manipulators complement skilled welders and enhance their capabilities. Skilled welders are still essential for programming, monitoring, and ensuring the quality of welds.
3. What are the main factors to consider when choosing a welding manipulator?
The main factors to consider include the size of the workpiece, the required reach, weight capacity, and the level of automation needed.
4. Are welding manipulators user-friendly?
Modern welding manipulators often come with user-friendly interfaces and intuitive controls, making them accessible to operators with proper training.
5. How do welding manipulators contribute to cost savings?
Welding manipulators increase productivity and reduce the risk of errors, leading to cost savings in the long run due to improved efficiency and weld quality.
Articles that may be helpful to you