Welding manipulator manufacturer share with you:
In the upsurge of mass entrepreneurship, if enterprises want to continue to develop, they must transform and upgrade to automated production. Welding manipulator is one of the most commonly used industrial robots. It can be widely used in automobile manufacturing, welding of automobile chassis, seat frame, guide rail, muffler and torque converter, etc., especially in automobile chassis welding production.

In today's increasingly scarce labor force, welding positions are very unstable. Because welding is very eye-damaging, many workers cannot stay in the position for long. Can't take it anymore. Shandong Weihaos fully automatic welding robot improves the working conditions of workers. Workers are only used to operate computers, away from dirty and tiring welding work, freeing workers from high-intensity manual labor.
Fully automatic welding robots help people complete heavy, tedious and repetitive labor, improve labor productivity, and ensure product quality. As long as welding manipulator china has production tasks, it can work tirelessly, and manual welding sometimes causes the company's day's production efficiency to decrease due to employee leave, reduced manpower, and other factors. The manipulator has absolute advantages. It does not require manual management, does not need to consider the amount of production, does not need to provide conditions such as work injury, insurance and medical treatment. It is the best choice for enterprises to increase production efficiency and reduce costs.
The automatic welding robot has a large working space, high work efficiency, strong load capacity, accurate positioning, can stabilize and improve welding quality, and improve labor productivity; improve the labor intensity of workers, can work in harmful environments; reduce the requirements of workers' operating technology ; Shorten the preparation cycle of product modification and reduce the corresponding equipment investment.
Our company which gather research and development, manufacture and sale, majoring in the line of automatic welding equipment such as adjustable welding rotator and welding chuck, cutting equipment, milling equipment, environmental protection equipment. For many years service in the boiler, pressure vessel, petrochemical, electrical installation, metallurgy and steel other manufacturing industries. Products varieties, specifications, complete sets, supporting strong advantages, can complete configuration, single purchase, and can bemanufactured according to user requirements. The Company will be experienced manufacturing experience, the perfect design, meticulous work of the spirit, the integrity of service waiting for your patronage.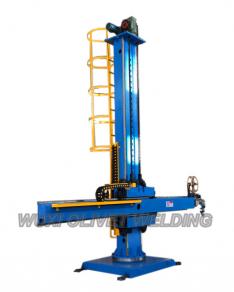 Welding Manipulator