Ring type Welding Positioner
---
Stable Rotating Process
Olivet company has a comprehensive range of positioner for automatic welding. These very versatile handling tools enable welding to be carried out in the optimum positions to benefit the quality of the work. Olivet's positioners are with capacities ranging for 100 to 200,000kgs.
Ring-type welding positioner is specially designed, convenient for welding box beam and grider in mechanical engineering field.
Ring type welding positioners are the best solution to the problem of rotating and tilting demanding on long work pieces. Optional equipped with server motor precisely controlled by PLC, it can work with Robot manipulator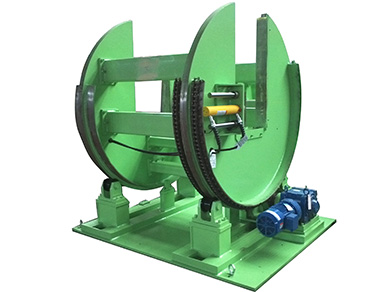 Scope of Delivery
A. 1 Main body
B. 1 Air-cyliner clamp system
C. 1 Electric control system
1 control panel
1 remote pendant
1 foot switch
Main Technical Parameters
A. Loading capacity up to 10tons
B. ±60 degree rotation angle
C. Server motors and PLC accuracy control repeat positioning
D. Robot manipulator expansion connecting control.