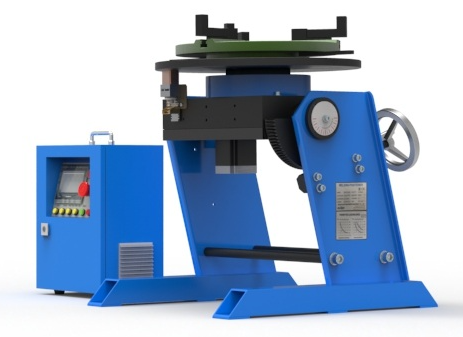 When operating a welding positioner, safety is always the top priority. It is important to ensure you're your welding positioner is always secure to a flat, stable surface. Benchtop welding positioners should be secured as well.
Pointers to Know When Working on Weld Positioners
Here are some things workers should keep in mind when welding on a weld positioner:
The center of gravity is the point where the mass of an object is held. So, when you select the positioning weld, it is important to consider the center of gravity of that workpiece along with its size and weight. This facilitates an equal balance of the workpiece on all axes. This also determines the speed of rotation of the table. CoG will change when the welder adds parts of various weights and sizes to the positioner. This point also needs to be considered.

The way in which the workpiece is anchored onto the welding positioner is a crucial factor because this is also the way in which it would separate once the task is done. Some specific tasks which need to be repeated to produce parts for typical applications use unique production fixtures. Other than this, for round-shaped workpieces, usually, a three-jaw chuck may be used for attachment to the positioner. Some pieces need to be bolted. So, this needs to be figured out according to the shape and size of the workpiece.

Ensure that the whole weld positioner unit is mounted onto a flat, even surface. Else, the workpiece may fall off, and this could be dangerous. You can mount the positioner vertically onto a workbench or a stand; however, it must be fastened well.

It is also important to check the manufacturer specifications for your welding positioner. The motor and control are based on the size and speed required for the welder to perform, and the manufacturer's specifications will inform you whether the welding positioner can handle the operation you need to perform.

A ground current should also be connected to the positioner during welding. Without it, electrical parts can be damaged. You should also make sure that the positioner is compatible with the electric current produced by the welding process.
What are the Different Applications of Weld Positioners?
Weld positioners are commonly used in many industries where welding and fabrication are required. Here are some of the application areas of weld positioners:
Rotary positioning

Rotation of parts for assembling

Mounting of welding equipment

Welding of shafts, wheels, pipes, and more

Rotating workpieces with huge offset loads
We are a Welding Positioner supplier, please contact us if you need them!