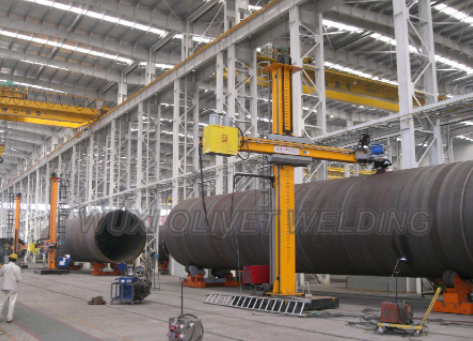 As an automated welding machine, welding manipulators can realize unmanned welding processes. It can achieve stable welding in the welding. Improving welding efficiency while reducing the labor intensity of workers. Replaces manual work in harsh environments. As users begin to use welding manipulators instead of traditional welding, choosing the right welding manipulator is an important step towards successful welding.
User's own needs
Users need to determine their own needs, technical parameters, the material and specifications of the workpiece to be welded, the speed of the production line and the range of sites, etc. Selecting the right welding manipulator according to the needs is conducive to improving the efficiency of the production line, stabilizing the welding quality, and improving the welding accuracy.
Welding process matching degree
The welding process is different, and the welding quality and efficiency for different workpieces will be different. The process solution of the welding manipulator should be both stable and feasible, and economical and reasonable, and the enterprise can ensure the stability of the welding process by reasonably arranging the process production through the welding manipulator, which reduces the occurrence of welding defects and reduces the cost of the enterprise.
Selection according to technical parameters
Welding manipulator manufacturers have different production models, different technical parameters, functions and practical effects of the product, the bearing capacity and flexibility will be different, and the weldable material will also be different, and enterprises choose the appropriate technical parameters according to the welding quality of the welded joints and the welding process with high production efficiency.
Many welding manipulator manufacturers will conduct low price sales to attract customers, but in the sales process will add unnecessary equipment, resulting in the user in the failure to achieve the welding effect, resulting in more after-sales problems, the user can choose to examine customer cases and the actual welding effect, combined with price selection.
Choose the comprehensive strength of the better welding manipulator manufacturers
Comprehensive strength mainly includes technical level, R&D strength, service system, corporate culture, customer cases, etc. A strong welding manipulator manufacturer, Wuxi OLIVTE Machinery Equipment Co., Ltd, will guarantee the quality of the products produced. A good quality welding manipulator has a long service life and can achieve stable welding. The Company will be experienced manufacturing experience, perfect design, meticulous work of the spirit, the integrity of service waiting for your patronage. If you are interested in our products, please feel free to contact us!