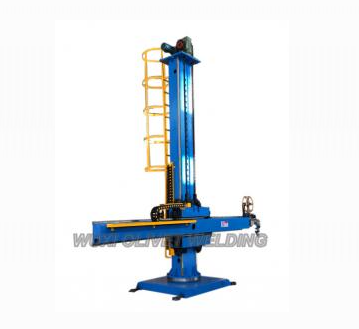 In today's industrial welding manipulator is more and more widely used, almost all industries are considering using the welding manipulator to replace manual labor, including the welding industry. When using the welding manipulator for the first time, shouldn't we pay more attention to it?
Before operation
1. Check and clean up the site to ensure that there are no flammable and explosive items (such as oil rags, discarded oil gloves, paint, thinner materials, etc.).
2. Must check the equipment before starting the machine, to confirm that the equipment is intact before starting the work.
3. There should be an isolation plate between two fixture stations to ensure that the shading effect is good and in place. The passage between the welding stations must be kept clear.
4. Check whether the voltage, air pressure, and indicator light are normal, whether the welding fixture is intact and whether the workpiece is installed in place.
When working
1. Clean up the site, wipe welding manipulator, debugging, maintenance, etc., must be done only after the shutdown.
2. Make sure there is no other staff in the welding manipulator action area when you start the machine.
3. Wear long-sleeved work clothes, work gloves, protective glasses, and do not wear shoes with exposed feet to prevent welding slag burns.
4. When welding work is in progress, it is strictly forbidden for other people to enter the welding manipulator action range area.
5. Fingers, hair, clothing, etc. should not be close to the rotating part of the wire feeding device, to prevent accidents.
6. When operating, concentrate carefully, place the workpiece in place, press the fixture device firmly, and keep away from the welding part when taking down the finished workpiece.
7. If the welding manipulator is found to work abnormally or welding quality problems occur, immediately stop the machine for repair, non-professional personnel should not be tampered with.
After stopping the machine
1. Clean the welding tumor, dust slag, and debris in the welding area, wipe the welding manipulator, electrical box, and other parts. Do the spot check record of the equipment.
2. Close the gas circuit device, cut off the power supply of the equipment.
We are a welding manipulator supplier, please feel free to contact us if you need them.