Traditional industrial production has gradually begun to transform into digital, intelligent, and automated. The traditional production model can no longer meet the needs of enterprise production and operation development. Under this background, automated welding equipment has emerged, bringing more advantages to the development of the majority of central enterprises, and effectively enhancing the comprehensive market competitiveness of enterprises. So, how much do you know about the composition and types of automated welding equipment? Today, I will give you an overview of the auto welding positioner manufacturer, and I hope it will be helpful to everyone.
One. Components of automated welding equipment:
1. Welding robot: This is an important part of automated welding equipment, and its main uses include: welding, cutting, palletizing, spraying, handling, etc.
2. Digital and intelligent welding power source: its output power and welding characteristics should match the welding production process method to be used, and it is equipped with an interface connected with the main controller.
3. Wire feeder and its control and speed regulation system: For wire feeders that require high precision in wire feeding speed control, the control circuit should add speed feedback.
4. The moving mechanism of welding head: It is composed of a welding head, welding head support frame, hanging carriage, etc. It is based on a precision welding head mechanism, and its drive system should adopt a servo motor equipped with an encoder.
5. Welding movement or hydraulic welding positioner: such as welding roller frame, head and tail frame turning machine, slewing platform and positioner, etc., the precise mobile positioning mechanism should be driven by a servo motor.
6. Weldment clamping mechanism
7. Main controller: also called system controller, mainly used for linkage control of each component, control of welding procedure, setting, adjustment, and display of welding parameters. If necessary, control functions such as fault diagnosis and man-machine dialogue can be expanded.
8. Computer system software: commonly used computer software in automated welding equipment includes programming software, functional software, process method software, and expert systems.
9. Welding head guiding or tracking mechanism: arc voltage automatic controller, welding gun yaw, and monitoring system.
10. Auxiliary devices: such as wire feeding system, circulating water cooling system, flux recovery and conveying device, welding wire support, cable hose and drag chain mechanism structure design, and electrical control design.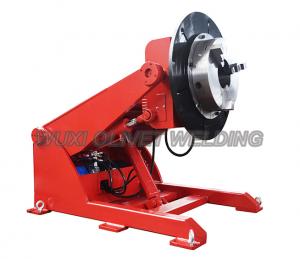 Hydraulic Welding Positioner
Two. Types of automated welding equipment:
1. Adaptive control automatic welding equipment
The adaptive control automatic welding equipment is a kind of intelligent welding equipment with a high degree of automation. It is equipped with sensors and electronic detection circuits to automatically guide and track the weld trajectory, and implement closed-loop feedback control of the main welding parameters. The entire welding process will be automatically completed according to the preset procedures and process parameters.
2. Intelligent automatic welding equipment
Intelligent automatic welding equipment uses various advanced sensor elements, such as vision sensors, tactile sensors, auditory sensors, and laser scanners, etc., and with the help of computer software systems, databases and expert systems have recognition, judgment, real-time detection, calculation, and automatic programming, Welding parameter storage and automatic generation of welding record files.
What are the components of automated welding equipment? What are the types?
3. Rigid automatic welding equipment
Rigid automatic welding equipment is called primary automatic welding equipment, most of which are designed according to the principle of open-loop control. Although the entire welding process is automatically completed by the welding equipment, the closed-loop feedback system cannot be used for the fluctuation of welding parameters during the welding process, and the possible deviations cannot be corrected randomly.
Summary: With the continuous advancement and innovation of welding technology, I believe that the future automatic welding equipment will bring more surprises to everyone and create more value for the majority of enterprises.