Welding positioner is a weldment can be rotated and flipped but also for mechanical deformation, so that the weld member is always in easy welding position. Currently, welding positioner has been widely used in engineering machinery, heavy machinery, vehicles, boilers, pressure vessels and piping and other manufacturing industries.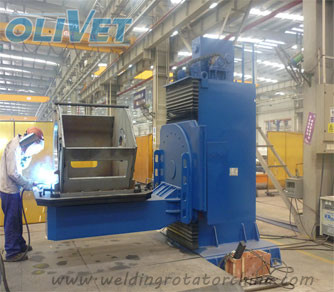 The structure of welding positioner can be divided into cantilever, pedestal, and the L-shaped two-seater twin rotary
Today, I will share two of them for you.
1. Cantilever welding positioner.
Structural shape cantilever welding positioner by the rotary table, outriggers, the main components of the tilt axis, the shaft and the base and other components.
2. Block welding positioner.
Block positioner machine is the most common form of displacement machine structure. Mainly by the rotary table, tilting mechanism, the motor drive system and frame and other components.