Here I tend to show you the remaining two.
1. Pedestal welding positioner
Pedestal table welding positioner has an integral flip freedom. The work can be flipped over to the welding place. Further rotation of the table there is a degree of freedom. This kind of variable-bit machine has been serialized production, mainly used for welding a number of tube, tray.
2. Two-seater type welding positioner
Two-seater type welding positioner is a flip and swivel functions in a mechanical deformation. Flip and rotation, respectively, by a two-axis drive, clamp the workpiece table in addition to the rotation around its own axis, but also around the other axis is inclined to do, or flipped, it can be on the weldment seam is adjusted to various positions horizontal or "ship" easy welding position welding for frame type, box type, disk type and other non-welded long workpieces.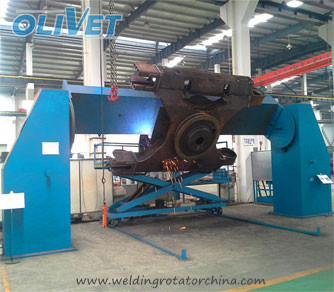 Our company, a welding equipment manufacturer, with a high level technical team and mature industrial workers. We have first-class KPI performance management system and high standards of management, as well as computer applications based on the depth of integration of the two casting system, which is a qualified manufacturer of steel castings, most can be customized steel products.