Welding manipulator is a combination of machine welding wheel frame welding positioner and the like, inside and outside the ring joints, fillets and other automated welding equipment, which has a variety of structural forms, can be selected to match the structure in accordance with the operation needs.
Whereby the use of a wide range of welding operation machine, easy to operate workers to operate. Features elaborate below the welding operation machine technology.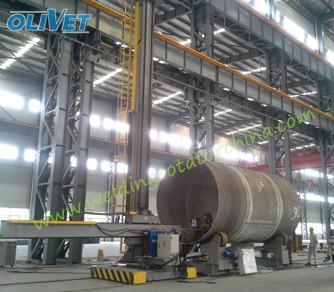 1. Appropriate and use the full hydraulic transmission, highly integrated valve blocks, large flow path, the system pressure less losers;
2. High performance tightly closed, we think fit tightly closed and the use of imported components;
3. Curb oil is good, clever mind unique special oil presets, really make the best living in the face of the hydraulic system, even in the office a long time large load condition of things, can easily enough to serve;
4. The motion system may consider appropriate use of cycloid gear motors and involute slow machine combined perfectly successful implementation of the CVT with the cart, stand turned; clamp mechanism with special accumulator pressure repayment of the clamping force and the prison has stabilized;
5. Three interlocking configuration because the jaws parallel rise and fall, clamp lever tilt, rotate 360 degrees, arbitrary three-dimensional flexible rotation;
6. The whole power input than similar energy-saving operating machine seventy percent;
7. Good-looking robot modeling, compact structure closely, the action is very flexible, and particularly well done great manipulator is no way to complete the action, allowing the operator to experience recognized human unity;
8. Free to use, fully demonstrated the machine to operate the robot change the fundamental significance.