If your business does a lot of pipe welding, one of the best decisions you can make is to go to a welding equipment company and buy a locator for your store. You might think there are viable alternatives, but locators go far beyond ease of use. When incorporated into your fleet, it can help you improve welding quality and consistency, reduce the turnaround time, and even improve worker safety, among other benefits.
What is a welding positioner?
A welding positioner is a special type of device that enables welders to easily rotate the cylindrical workpiece, allowing them to weld joints safely and quickly. The positioner is often used in conjunction with other welding equipment, such as roller or even robotic welding machines, for better results.
Why do we need a locator?
Improve welding quality
Large pipes may be too heavy to carry, move, and weld. Workers must often stop just to rotate the work, which is not required when a crane is used to secure the pipe. Even if welders are trained to work from different angles, obtaining consistent and reliable welds can be stressful and demanding.
Using and matching the right auxiliary equipment, the welding positioner China can even fix the heavy parts in place. If welders need to work on other parts of the joint, they can easily rotate the pipe through the positioner. Unlike a crane, the positioner is stable and does not cause unnecessary movement, so the welder can concentrate.
Increase productivity
The stability and security provided by the locator help reduce the turnaround time of the store. Welders can work longer hours because they don't have to struggle to move parts. This saves them time and enables them to finish the work faster while consuming less energy.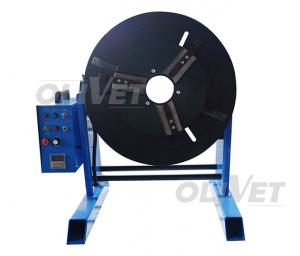 Welding Positioner
Male elbow welding easier
As any welder knows, working on the elbow can be tricky, even with auxiliary equipment such as rollers. The positioner can be fitted with detachable accessories to make elbow joint handling and rotation safer and easier.
It lowers the level of skill required to get the job done
The most experienced welder in your store is your most valuable asset. Unfortunately, they don't have the time or energy to take on all the work required. In the end, you will have to trust less-experienced workers to perform tasks normally assigned to senior workers. The China Welding Positioner has eliminated most of the speculation about the welded pipes, allowing less-skilled workers to focus on creating high-quality welding and completing the task at hand.
Improving worker safety
Handling heavy parts can be very dangerous. Using cranes does not make things easier because they tend to move unnecessarily. As long as the pipes are properly placed, workers can work and move the workpiece without worrying about its safety. They also don't exert much force, so they're at less risk of overusing their muscles. Overuse and fatigue are common problems associated with physical labor and can lead to chronic pain.
Locators bring many benefits to your store. In addition to improving the results you deliver to your customers, it can also contribute to the safety and better health of your workers.