Using welding rotator can shorten welding auxiliary time and improve labor productivity
Domestic welding rotator manufacturer nearly a decade of engineering machinery manufacturing industry, shipbuilding industry, heavy machinery and equipment, the development of bridge steel structure industry such as welding rotator machinery development of spring, by the previous 2000 sets of domestic capacity and sales capacity, up to the size of 30000 units a year by the previous industry total output value development to the current annual production nearly $8 billions level, industry, do big cake, but a growing number of welding rotator production enterprises found that enterprise production in big quantity, but no growth profit depends on how much. And enterprise development prospect is not very clear, had met a lot of problems, organize summarized specific problem analysis is as follows: plant and equipment investment grows, mainly on the welding rotator of manufacturing equipment, such as roller machine, welding equipment and automatic welding equipment, lead screw transmission mechanism, the CNC equipment operation, pneumatic clamp body, steel structures, such as costs are increasing year by year.
High-end equipment manufacturing is included in the strategic emerging industries, CNC welding rotator in the future will focus on cultivation and development. Advanced machine tool manufacturing is an important part of high-end equipment manufacturing, so the industry can get subsidies from central and local governments for research and development. Selling high-end machine tools also benefits from the tariff policy, increasing sales of local products. The main markets of machine tools in China are industrial machinery and equipment, transportation equipment, primary metal products and electrical and electronic equipment. Among them, because industrial machinery is widely used in various industrial fields, it has become the largest market of machine tools. Transportation equipment manufacturing has been the second largest market for machine tools over the past decade, thanks to the explosive growth of China's auto industry.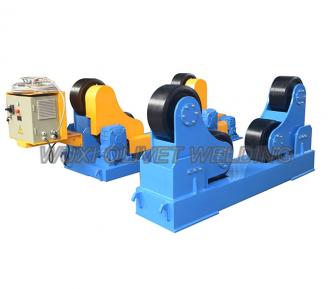 In the high-speed development of China, welding rotator has quietly become an indispensable equipment in the manufacturing industry, in the field of welding, it is classified as welding auxiliary machine. In the past ten years, this product has been widely used in China's construction machinery industry. The use of welding rotator can shorten welding auxiliary time, improve labor productivity, reduce labor intensity, guarantee and improve welding quality, and give full play to the effectiveness of various welding methods. With the continuous intelligent development of computer technology, dynamic control and information technology is widely used in the manufacturing industry, the welding rotator is also developing towards the direction of intelligent, multi-function, large scale, integration, high precision and high reliability.
As the world economic crisis accelerated the adjustment of industrial structure, the welding rotator industry has a huge impact. welding rotator industry belongs to the special equipment industry, although China's 12th five-year plan is to vigorously support the special industry, but the pressure easy industry has not produced a particularly large role in promoting. According to the pressure vessel network analysis, China's pressure vessel manufacturers are very many, about thousands. Mainly distributed in the Yangtze river delta region, and mainly by private enterprises, most of the enterprises are not very large scale, each has its own focus. Most also focus on low-end products. Since the economic crisis, the competitiveness is getting worse and worse, and the benefits are also greatly affected. The pressure vessel industry is affected by the impact of the corresponding service providers, such as CNC drilling machine and welding rotator manufacturers, also affected by varying degrees. This is a result of economic interdependence.