Welding machine technology services the design and manufacturing process through automated welding robots. Welding robots have provided a viable solution to achieve mass production by reducing production cycles. In addition, welding manipulator China has the advantages of repeatability and accuracy operation, so that the application demand in the end-use industry is growing. Formally due to the repeatability and accuracy of the operation, welding robots are widely used in the automotive field, and many of them need to be continuously welded along the production line.
Welding manipulator is also widely used in many application industries, such as heavy machinery, electrical and electronic, hardware processing, aerospace, processing industry, transportation, and shipbuilding. According to welding technology, welding robots are divided into gas welding robots, arc welding robots, laser welding robots, and spot welding robots. Different types of welding robots can also be selected according to the nature of the materials to be welded, the required accuracy, and the level of refinement required in the finished product.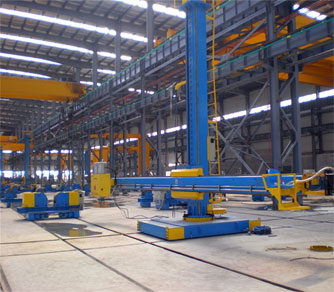 Welding Manipulator China
Depending on the depth and breadth of the welding operation, manufacturers can choose between articulated and linear robots.
An articulated robot is like a human arm, and the wrist can be rotated to produce an irregularly shaped working area. Although this increases the angle and range of the welding process, articulated robots require a larger working area to avoid accidental collisions with neighboring equipment.
A linear robot moves along all three axes (X, Y, and Z axes), with a wrist attached to its bottom end for rotary motion. Since the possibility of collision with peripheral equipment is low, a box-shaped work area is created for the linear robot to ensure the safety of its operation.
Despite its huge advantages, the development of the welding robot market also faces some challenges due to its high initial cost. Manufacturers around the world are worried about the additional costs of deploying robots throughout the production line. In addition, the lack of widespread use in small and medium-sized enterprises (SMEs) will hinder the market penetration of welding robots. Another factor that challenges the growth of the welding robot market is the lack of skilled technicians. Manufacturers need to hire a professional technical team to maintain and repair robotic equipment to ensure the continuity of production activities along the production line.
In recent years, the huge development opportunities for small and medium-sized enterprises (SMEs) and the growing demand for customized robotic solutions have brought considerable economic benefits to welding manipulator manufacturers. In addition, advances in vision tracking system technology allow continuous monitoring and control of the welding process. The growing demand for manufacturing in Asia is expected to further drive the growth of the welding robot market.