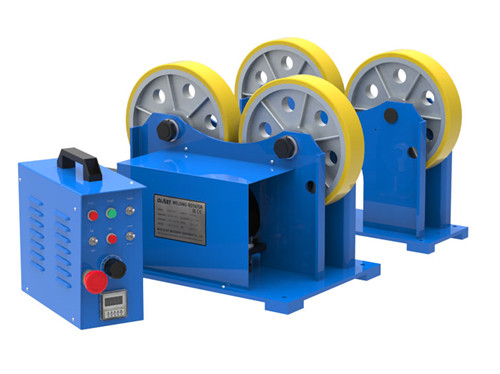 Welding rotators play a very important role in your production!
Changes brought about by welding rotators
Using a welding rotator can bring many important changes to your production, including:
Safe and labor-saving welders
If you use a welding rotator, you will spend less effort because it will automatically rotate. This means that the welder does not need to manually move and rotate the workpiece; it improves the safety of the welder and the workpiece.
Faster productivity
All automation will bring faster and better productivity. The function of the welding rotator to move the workpiece means that the welder can do more and better.
Stronger and more reliable support
The support of the equipment itself is sufficient to bring stronger and more reliable support for the workpiece. This protects the workpiece, its mass and overall dimensions from deformation.
The welding rotator is part of the automatic welding
Ideally, welding rotators help automate welding procedures. Of course, this is taking into account the fact that other welding equipment and machines are already in place. For example, if it works side by side with a welding manipulator, the welding rotator will be an important part of automatic welding.
What is automatic welding?
Automatic welding is a welding process that uses equipment to continuously weld without requiring an operator to run continuously. All parameters of automatic welding are preset and cannot be adjusted during the welding process.
Choose our welding rotator and upgrade your business!
OLIVTE provides excellent products and perfect after-sales. We have a professional sales team and technical team. From purchase to fast delivery to after-sales, we provide you with the best buying experience.
Why choose China welding rotator manufacturer
You can cooperate with a large number of welding rotator manufacturers in the market.
But, have you ever tried to choose a Chinese welding rotator supplier? You may be influenced by what others say, but welding rotators from China are actually the best, most reliable, and most trustworthy.
Give you two reasons to choose a Chinese manufacturer:
China has the most complete industrial chain in the world. The industry has developed rapidly for decades and has already reached a world-class level.

China has a huge cost advantage, which is not only reflected in labor costs. At the same time, China has a large number of talents, a complete supply chain, and excellent production technology, which brings huge cost advantages to Chinese manufacturing.
Besides you can get it with them at the best and most competitive price, you can also establish relationships with other suppliers in the future.