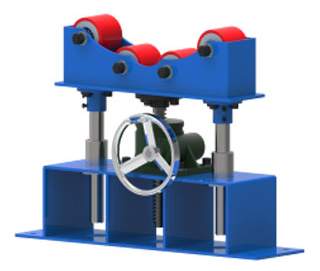 Supporting Roller
Pipe supporting rollers are an integral part of deep-sea industrial drilling and offshore pipe installation. Any laid pipe must be supported to prevent any unwanted movement and potentially catastrophic damage to the entire system.
What is pipe supporting roller?
Pipe supports are also known as hangers. They work by fastening a pipe to a weighted beam, securing them as one. The weight of the line is shifted to the beam, reducing the possibility of wear through the pipeline. Pipe supporting rollers work to limit motion in a pipeline to controllable directions and allow the pipes to naturally contract and expand without fear of dislodging.
Types of pipe supporting rollers
Pipe supporting rollers can come in any shape or size, and can be custom created to fit a company's support needs. But they all must meet certain criteria and should not have any defects attributed to their use. Supports should not cause any wear on a pipeline through their use, cause any leaks or fractures in a pipeline, or otherwise hinder the operations of a pipeline in any way.
However, there are three commonly used types of supports: spring, rigid, and shock absorbing (snubber). Spring support mechanisms utilize compressed springs to hold a pipe in place, while allowing movement up and down. This flexibility is crucial for a system structure because it allows weight to shift within the system during regular movement or violent tremors. Rigid support mechanisms, as they sound, do not allow any movement within the structure, creating a very sturdy but slightly restricting composition. Shock absorbing, or snubber support mechanisms are supplemental restraints that serve to protect pipes from any damage caused by vibration within the system or due to an outside force.
Supports should be attached in areas where they are most needed, such as where they can transfer the most weight. It may also be necessary to add slides between the piping and support to reduce friction.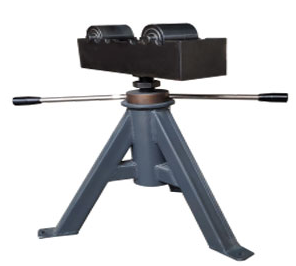 Supporting Roller
Materials of pipe supporting rollers
A support can be made from a wide variety of material. Steel, iron, and aluminum are commonly used across many industries. But the best support mechanisms are often insulated with polyurethane. Polyurethane is an extremely durable plastic that is useful in industrial contexts because it does not conduct electricity. The material also absorbs some of the resonance that reverberates throughout the system and prevents damage to the pipeline.
It is impossible to operate any piping system without the proper supports to ensure that all work is done safely and efficiently. The best pipe supporting rollers will operate effectively even in extreme high temperatures, extreme low temperatures, and under heavy workloads.
The conclusion
Otherwise known as pipe hangers, pipe supporting rollers are one of the most important parts a piping system can have.
The supports either hold pipe in place or limit its movement in order to protect the integrity of the rest of the pipeline. The support is secured to a pipe and weighted, so that the load of the system is partially shifted. This eliminates physical stress on the pipes. A support should be utilized in sections of pipe where the most weight can be shouldered.
Many supports are custom engineered, but spring, rigid and snubber supports are the most commonly used throughout the industry.
Spring support systems allow for some movement and flexibility while still holding the pipe in place. Rigid support systems do not allow any movement throughout the structure. Snubber supports are used to prevent damage due to resonance through the system or due to environmental factors. All supports have their place in the industry, and no one is better than the other. Some can even be used concurrently.
Pipe supporting rollers can be made from many different types of material; iron, steel and aluminum are common. To minimize any potential for damage, supports are sometimes insulated with polyurethane, a strong plastic that prevents electric current from passing through the system. The plastic also works to absorb any natural vibration.
Support mechanisms working throughout the system are necessary to ensure the longevity of the piping system. Choose a support that performs in all conditions and is in line with your company's needs.
We are a pipe supporting roller supplier. If you are interested in our products, please contact us now!