About one-third of steel products are welded, and with the exception of a handful of high-end equipment, China is largely able to provide its own welding equipment, making it the world's largest producer and exporter of welding equipment. At present, the production capacity of China's Automatic Welding Equipment Factory is greater than the demand. Despite the rising prices of upstream resources and raw materials, the average sales price of the whole industry is in a declining range, and the average profit of the industry is getting thinner and thinner. The core competitiveness and scale advantages of enterprises have made the living space of those small enterprises without independent research and development capability smaller and smaller, and the number of enterprises will be gradually reduced. At present, the economic types of Chinese welder enterprises are mainly private enterprises, joint-stock enterprises, sino-foreign joint ventures and wholly foreign-owned enterprises. The total number of enterprises is about 700, and the annual output value is about 10 billion yuan, among which there are more than 20 enterprises whose annual output value is over 100 million yuan.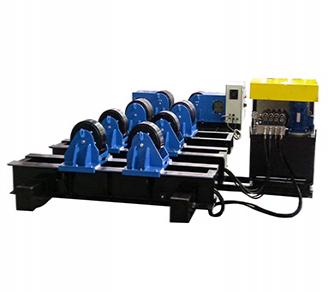 Most of the foreign edge milling machines provide welding expert system for free or optional, allowing the operator to input welding material, thickness, groove form and other welding conditions to automatically generate welding process. However, domestic edge milling machine manufacturers are still very limited in the study and accumulation of welding process, it is difficult to provide mature and reliable welding process support, resulting in domestic products in addition to the price of imported products and no competitive advantage, most of the high-end market share is still occupied by imported welding machine. Because of the lack and disconnection of intelligence and welding process service, most of the welding equipment in our country are pure machines and equipment, and do not shoulder the responsibility of solving welding problems for welding users.
At present, China's edge milling machine equipment-Auto Welding Positioner is gradually catching up with and close to the international level, China's edge milling machine equipment production varieties, complete products. The current ranges from more than 10 amps to 1250 amps, from schoolbag size to large burn-milling machine, from manual operation to intelligent welding robot. IGBT inverter and single chip microcomputer control technology are widely used in the edge milling machine equipment, and made into a more general controller, but thyristor welding machine still has a stable market; CO2 welder and MIG welder adopt precise control technology of drop per pulse more, which makes welding splash less, weld formation more beautiful and welding quality improved. The development of digital welder is valued by many scientific research institutes and large enterprises, and is recognized and welcomed by more manufacturers. Expert system, intelligent welding machine, welding quality monitoring and tracking system (such as arc length tracking, welding seam swing device, mechanical, optical, electronic welding seam tracking, etc.
Full digital control welding machine, has become the mainstream of imported welding machine. Full digital control technology greatly improves the control precision of welding machine, welding machine product consistency and reliability, but also greatly simplifies the upgrade of control technology. And the domestic edge milling machine, still based on analog control technology, although some manufacturers also launched a full digital edge milling machine, but mostly in the simple replacement of analog control level, the role of full digital control has not played out, leading to the market recognition is not high.