Welding positioner is mainly used to correct the position of the weldment to reach the welding precision welding auxiliary machine requirements in Mainland China, welding positioner has been indispensable in manufacturing welding machine, mainly machinery industry, the use a wider scope.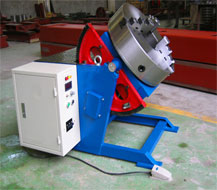 People who generally not well known welding positioner may find welding positioner is not very useful, but the scope for domestic use, or in the international community welding positioner has been very extensive. Universal high welding positioner achieve mainly based girth welding welding equipment. It can be used with welding machine, MIG welding and plasma welding and some other welding power supply, automated welding machines and other system components. Welding positioner is mainly a combination of the rotating head and displacement mechanism and a controller formed. Head rotation speed can own tune, and it has an independent speed control circuit, DIP switch can be placed directly weld length of the initial value. Tilt angle may need to adjust themselves according to the weldment, the torch may be pneumatic lift.
With welding positioner technology continues to mature, more and more use, weldments positioner more common in the market has been more than ten series of products, a wide range more widely.