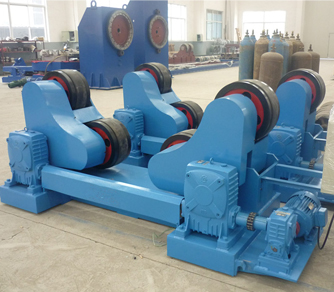 Self-adjusting welding rotator is suitable for containers with different front and end sizes. It can keep the whole tank horizontally by adjusting the center height of the rollers.
The features of Self-Adjusting Welding Rotator :
1.According to driving mode, it could be devided into unilateral and bilateral driving.
2.The manual control box is convenient to operate.
3.Electromagnetic stepless speed control or variable frequency drive is adopted for the adjustment of roller speed.
4.The distance between rollers can be adjusted automatically to accommodate different tank diameters, so manual adjustment will be no need.