Two kinds of welding rotator can be supplied: the adjustable welding rotator and self-adjustable welding rotator.
adjustable welding rotator: Bolt holes are preformed to adjust the center to center spacing of roller group, in accordance with the diameter variations of work piece. Stepless speed regulation of imported frequency converter is adopted. with a wide range of speed regulation, high precision and large start-up moment.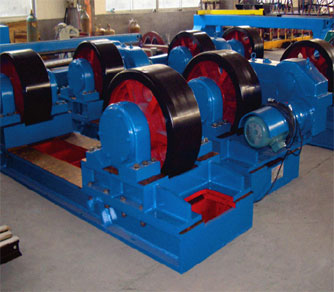 self-adjustable welding rotator: Tilt angle of rollerbed can be automatically adjusted as per diameters of workpiece,and no manual adjustment is needed. Steel and rubber combined rollers have high bearing capacity and strong driving ability. According to driving mode, it could be divided into unilateral and bilateral driving.