At present, there are three major advantages in the development of adjustable welding rotator industry in China.
Welding roller frame industry has now become one of the more popular industry, welding equipment enterprise management concept, enterprise's each and every one, every machine, every parts, every time after sales service, reflect the enterprise's overall image, only the unremitting efforts, to carry out the innovation to each link, the manufacturer can be in an impregnable position in the market. At present, the brand awareness of users is constantly improving, so manufacturers and dealers should work together to come up with ideas to improve brand awareness. Such as strengthen sales efforts, manufacturers and distributors of each salesman is a live advertising, at the same time can choose the industry has a certain influence of the media for publicity and promotion, participate in the welding industry more than large exhibitions. Only when the popularity of the enterprise increases, customers will think of and choose our brand products when they need products.
At present, the development of China welding rotator industry there are three major advantages: first, policy advantages: the state council "high-grade CNC machine tools and basic manufacturing equipment" major special project issued is the national level to promote the leapfrog development of roller frame industry in China's major measures and deployment. Second, technical advantages: many machine tool groups in China have established research institutes or technical centers, and set up research branches at home and abroad, accumulating a group of scientific research talents to provide technical support for the development of the roller frame industry. Third, scientific research advantages: many institutions of higher learning have established key laboratories and engineering centers related to machine tools at the national, ministry and local levels. We believe that China's welding will have greater development, China's roller frame industry will certainly achieve more impressive results.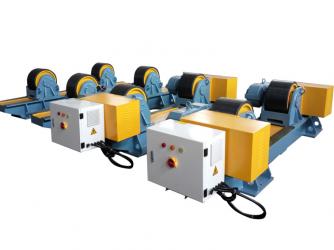 Adjustable Turning Rolls
Roller rack series from the self-adjustable, adjustable, flat car type, tilt type, anti - axial movement and other forms. Used for welding, polishing, lining and assembling of cylindrical cylinder body, self-adjusting roller frame is used for welding of circular cylinder body, which can be adjusted by itself according to the size of the cylinder body. Adjustable turning rolls can be adjusted by screw, screw, etc., by adjusting the center distance of roller, suitable for different diameter cylinder. The adjustable roller frame is a displacement machine that drives the welding part to rotate by virtue of the friction between the active roller and the welding part. The adjustable roller rack has only one roller component that is an active roller component and one that is a driven roller component. The drive devices all adopt frequency conversion speed regulating motor, which can drag the roller parts through reducer and drive the welding parts to do welding rotation.
Every domestic edge milling machine manufacturer with nearly 10 years of engineering machinery manufacturing industry, shipbuilding industry, heavy machinery, bridge steel structure industry development drew edge milling machine of the development of the spring, by the previous 2000 sets of domestic capacity and sales capacity, up to the size of 30000 units a year by the previous industry total output value development to the current annual production nearly $8 billions level, industry, do big cake, but a growing number of edge milling machine manufacturing enterprises found that enterprise production in big quantity, but no growth profit depends on how much. And enterprise development prospect is not very clear, had met a lot of problems, organize summarized specific problem analysis is as follows: plant and equipment investment grows, mainly on edge milling machine manufacturing equipment, such as edge milling mechanical and electrical machine, welding equipment and automatic welding equipment, lead screw transmission mechanism, the CNC equipment operation, pneumatic clamp body, steel structures, such as costs are increasing year by year. The spacing of roller parts in each roller rack is adjusted manually by using locating bolts according to the welding conditions.