Self-adjusting welding turning rolls is special welding auxiliary equipment, supporting the use of welding manipulator and submerged arc welding machine. In order to work completed within the outer ring seam welding.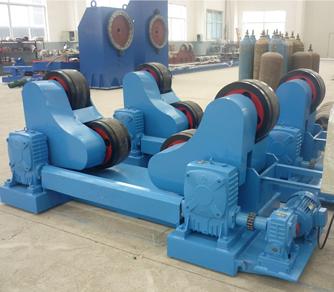 Self-adjusting welding turning rolls can be adjusted according to the size of their own drum diameter welding turning rolls driven by cycloid reducer worm reducer way or manner, dual-motor drive Sectional rubber tire, steel wheels, steel according to the needs of users, the wheel three forms of glue wheel assembly; linkage control and other equipment for the welding turning rolls main cylindrical body welding, polishing, lining and assembly, but also tie in with other tooling cone segment range. assembly and welding rotor diameter of welding turning rolls products are widely used in wind power, pressure vessel, petrochemical, pipeline, steel structure, boiler, shipbuilding, welding repair and other industries. the factory also based on user need to design, customization of various types the turning rolls.
Wheel frame is welded to a welding auxiliary equipment, in particular a welding roller stand, commonly used in the inner and outer cylindrical workpieces girth and longitudinal seam welded inside and outside, including the chassis, driving roller, a driven roller, frame, transmission, power device drivers and other components. gear-driven drive rollers using friction drive rollers and cylindrical workpieces between the workpiece rotation driven to achieve displacement can be achieved outside the ring and outside the longitudinal seam and horizontal position of the workpiece seam welding, supporting automatic welding can realize automatic welding equipment, can greatly improve weld quality, reduce labor intensity and improve work efficiency. welding roller frame also with manual welding or as a detection, the cylindrical body of the workpiece assembly equipment.
Welding positioner feature is applied during welding pressure without adding filler material. Most diffusion bonding methods such as welding, high frequency welding, so there is no cold solder melting process, so there is no fusion as beneficial alloying elements like burning and harmful elements intrusive weld problems, welding roller frame simplifies the welding process, also improves the welding safety and health conditions at the same time because the heating temperature is lower than welding, heating time is short, so small heat-affected zone. many difficult to melt material of welding, brazing can often be pressed into the base material of equivalent strength and quality fittings.